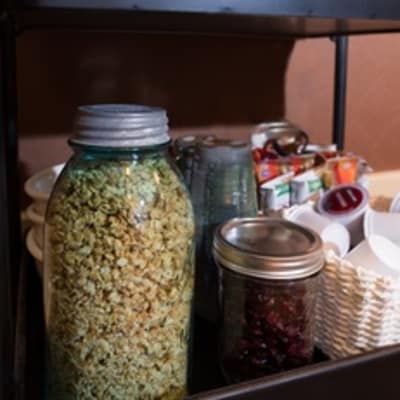 DIY Breakfast
How it works:
Most kottages boast a fully stocked and modern kitchen where guests help themselves to a large assortment of pre-stocked breakfast items. This means that guests are able to prepare their own breakfast of what they want, when they want it in their own, private kitchen.
For guests wishing to provide their own breakfast items, grocery stores are plentiful and close by, even health food stores!
NOTE: At our Clarendon St., Sprague & Lakeway Ave. location, breakfast items are available, but vary slightly from the other locations See Douglas Fir, Raven , Green Heron and Aspen for breakfast details.
Note: A standard and plentiful quantity of items is supplied for each check-in and not customizable for each party based on size and length of stay.

Breakfast Choices:
English Muffins
Eggs
Sausage Links
Assorted Granola
Almond Milk (plain)
Fruit Juice (type varies)
Peanut Butter
Assorted Coffee & Tea
Half & Half (Almond/flavored)
Assorted Oatmeal packets
Assorted Muffin Mix
Real Maple Syrup
Pancake and Waffle Mix (waffle maker provided)
Assorted Jams
Pantry Staples for basic cooking